Exhibit on history of the Hungarian Falconry 18 June - 28 August 2016 in Keszthely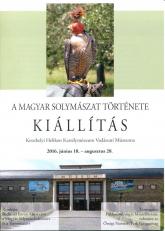 Date: 29 August 2016
Translated by Google.
The exhibition "History of the Hungarian falconry" in Keszthely, only the Hunting Museum can be visited until August 29, and then is broken down. Those who still want to see, try, it is still uncertain where and when it will be shown again.
Pictures from the show: III. King Béla riding solymászként pieces of silver, Attila turul lobgóval George & Lelovich golden eagle in the "Gyöngyvirágtól leaf fall" game film, Falcon goose cut: George & Lelovich painting, falconer coat of arms, Thelegdiek falconer coat of arms, + bastion Lorant renowned falconer, hobby falcon, hawk , peregrine falcon, Lanner falcon, merlin, peregrine falcon pheasant, kestrel, hawk hares, the exhibition brochure, XIV. Falconer century figure, part exhibition, a showcase attractions. (Duhay Gabor)
A "Magyar solymászat története" című kiállítás Keszthelyen, a Vadászati Múzeumban már csak augusztus 29-ig látogatható, utána lebontásra kerül. Aki szeretné még megtekinteni, igyekezzen, mert egyelőre bizonytalan, hol és mikor lesz látható ismét.
Képek a kiállításról: III. Béla király lovas solymászként ezüst pénzén, Attila hun király turul lobgóval, +Lelovich György szirti sassal a "Gyöngyvirágtól lombhullásig" játékfilmből, sólyom libát vág: +Lelovich György festménye, solymász címer, Thelegdiek solymász címere, +Bástyai Lóránt neves solymász, kabasólyom, karvaly, vándorsólyom, lanner sólyom, kissólyom, vándorsólyom fácánon, vörös vércse, héja mezei nyúlon, a kiállítás prospektusa, XIV. századi solymász figura, kiállítás részlet, a vitrin látnivalói. (Duhay Gábor)
Link to Website: Exhibit on history of the Hungarian Falconry