Chinese eagle brace
Date Created: 11 November 2006
Traditional style wooden support used by Chinese falconers to support the weight of their eagles. The arm is supported by the cup whilst the bottom of the brace nestles against the hip and may be tied to the belt with the string. The supporting leather sling is worn around the body.
Source: Field trip of Dr. Nick Fox to Xianjiang, China.
Owner: Dr.Nick Fox Collection
Location: UK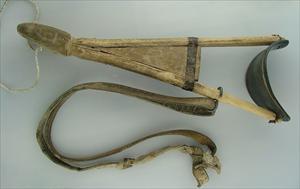 Wooden brace to support carriage of eagles.